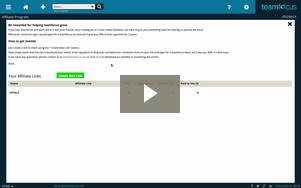 Here at teamfocus we wanted to create a quick and easy way to be able to reward our customers for helping us grow. Our new Affiliate Program lets anyone quickly create a link that you can then share with friends, work colleagues or social media followers.
Whenever someone signs up and pays for a teamfocus account using your link, we'll give you 30% of their ongoing payments for 2 years.
Who is the Affiliate Program for?
The TeamFocus Workflow Affiliate Program is designed to be used by everyone. So whether you're a personal teamfocus user who would like to be rewarded for letting friends and associates know about our unique features, or a larger consultancy group who would like to include teamfocus as part of your product offering, we can now directly thank you.